Well, it's a used car. But it's new to me, and I love it!
I shopped Monday evening, Tuesday Evening, and then this morning I decided I needed to rethink my whole strategy and called a work friend who's husband Bobby Newton has been working at the same dealership for 12 years.
I hate to car shop and suppose that I'm no different than anybody else, and had already been to to different car lots here in Louisville that I shall not mention. Let's just say I'm a no pressure gal and leave it at that.. No on second thought I'm not going to leave it at that. I hate the way car salesmen think you're just going to up and buy the car they show you. Not that I'm a difficult person but I know what I want. And at this time in my life I just happened to be wanting a red convertible. That's all, just a pretty red girly convertible car.
Bobby's wife said they had one at the dealership that he works at and that he would show it to me this morning. I went, I seen the car, I fell in love.
I got me a 2002 Chrysler Sebring LXi Convertible. It's Red too.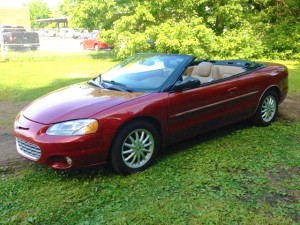 Bobby already had the car fax for me to look at. One owner, all of the maintenance records still in the glove box and there were a lot of them. The previous owner only put 58,000 on it and they were very easy miles. I was able to call her and we talked for a bit. She told me that she bought it new here in Louisville and traded it in about a month ago on a new Dodge Charger. She informed that it had been garaged kept it's entire life and never been in an accident. Still though I took it to my mechanic Troy French and he drove it with me in it, and when we got back he said and I quote "If you don't buy I'm gonna buy it for my wife".
That was it. I drove it back to Bobby's dealership and wrote them a check on the spot.
Afterwards I went to the Big O tire shop on Dixie Hwy and had them put all new tires on it. Nothing but the best for my new baby. And tomorrow I'll drop it off with Troy and he'll change all of the fluids, belts, brakes, put a new battery in it. And generally go over the entire car with a fine tooth comb. Every single woman should have a mechanic she knows and trusts and I went to high school with Troy. He has quite the following and I would hate to see him ever retire and go into some other kind of business. I can rely on him and that means so much to me.
So hey everybody. If you see a hot looking middle aged babe in a really shiny red convertible yell out hello! It's probably me.
Did I tell you I love my new car? Call Bobby if you want one, he's a doll and doesn't do all the high pressure stuff.