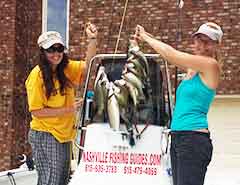 That's right!
I'm going fishing with my friend Susi Johnson in Nashville TN.
I haven't gotten to see Susi in over a year. Her and her husband Merv moved down to Nashville a few years ago and opened a fish guiding business on Percy Priest Lake called of all things "Nashville Fishing Guides" and Susi says their tagline is "Fish Fear Our Name".
According to Susi it takes a little more money to start a guiding business than most people would know, and her husband had to get all kinds of special insurance and a license even. But it's a new business and I want to help them out so here I go !!
I've been invited down for a whole week and we're going to go Crappie fishing, I'm so excited. I just hope my old car makes it. As soon as I get home I need to go car shopping but really want to put it off till I get back from Nashville. Surely the old grey goose as I like to call my Taurus has another thousand mile in it. It will be her last major trip before I trade her in.
Merv says if the crappie aren't biting we'll go after the big stripe bass. Either way I'm sure this is going to be a productive trip, so will be taking a large 48 qt cooler to bring all of my fish home in.
I've went to their new website nashvillefishingguides.com and looked at some of the pictures and the amount of fish they catch is great and if the images are any indication of how many fish we'll be catching this will be a very fun trip.
They've already had a commercial made and put it on youtube and I watched that too and just like in their website photos they were catching a lot of fish so I'm sure we're going to catch a bunch.
According to Susi they have a brand new boat that they've outfitted and we'll be taking it on for the whole day. We don't have a lot of areas for recreational fishing here in Louisville other than the Ohio river, and I wouldn't eat any of the fish from out of it. But Percy Priest Lake? Oh yeah!
I can cook and clean fish and have my own gear but it will be nice to be on the water with a pro guide like Merv. I've been fishing with them before and the man flat out knows how to find them. That's all I need too, I can catch them myself. As a kid my father took me pan fishing with him all the time for bluegill, crappie, and goggle eye.
I've sport fished on the river for years and own some top of the line heavy poles for the big catfish down there. According to Susi all I need to bring for this trip is my clothes and some shoes with good gripping soles. A hat, some sunglasses and dress appropriately. They supply the rods the reels, baits, and boat. That's the whole gig!! Obviously I will be taking some sunscreen with me.
I'll be gone for the week and am not even going to be missing work at all. I'll be having my friend Barbara by to tend to the zoo here at the house for me. But my dog Buddy is going with me. He's a Lab, and Lab's love water like nobody's business. I'm not even going to tell them I'm bringing Buddy, I'll just show up with him. I know Merv is going to freak at first but that's OK. He was a dog man when he was in the army and Buddy is a big time water dog but is also trained to stay when he's told to stay. If he was still a puppy I wouldn't dream of taking him, but at 8 years old he's a middle aged gentleman and I can't bear to be away from him.
While I'm there Susi and I will also take in some of Nashville's finer sites to do some shopping, and visit with some other friends of ours that live over in Chattanooga. So it won't be all fishing, but mainly I can't wait to get on the water and start hauling in them silver sided crappie.
I'll post pictures when I get home. And that picture up there at the top? That's my friend Susi from the last day she went fishing 🙂
So this is my update to the fishing trip!
We had a total blast, and I caught more fish than anybody else on the trip that day. I caught 48 keeper size crappies, 13 bass large enough to keep, and a butt load of real nice bluegill because I love fried bluegill.
It took my about 6 hours to filet all of them and I now have 22 baggies full of filets in my freezer. It was a shame that we got rained out early Sunday after church because I was on a tear. I prayed to God that I would catch a lot of fish and I was rolling when it started to cloud up on us. We were lucky in the fact that we weren't terribly far from the Fate Sanders Marina so we just buzzed in there for lunch.
All in all one of my best most memorable days of fishing. I can't wait to go back!