For the last two weeks I've been remodeling my kitchen. Most of the work I was able to do my self and I'm very handy with tools. Actually I have an annual tool budget that I have to restrict myself with. I figure 300.00 annually to get me through a calendar year is enough. Unless I have a really big purchase like my riding mower. I went over budget when I bought that, but wanted the green one, so I bought it.
And I actually didn't need my own wood chipper but it was so cute and makes my mulching much easier. And what with all the different pets and animals I have it makes disposing of them when they pass away so much easier.
I just point the fired up wood chipper where it will spray all over the garden and toss them into it. Afterwards I'll gather up all of the limbs from around the yard and throw them into the chipper while it's still pointed at the garden to clean it out. It makes for a great fertilizer and keeps the carbon circle running in all of it's beauty. An added benefit is that my animals are able to give back to nature and there's no painful grave to look at. Some memories are just to painful for me to bear.
How many women do you know with their own saws all? For you men that don't know what that is, it's a reciprocating saw with a lovely 10 inch blade on it that strokes in and out with a mind of it's own. I have several attachments for it that suit my needs.
So the kitchen is done this evening and it's been quite the experience I did new floors. Repainted the entire thing, and had the most beautiful granite counter tops installed.
Of course the granite is one of the things I didn't tackle on my own. I had Trademark Universal Stone install them for me. If you want granite in your kitchen you really do need to get with Henry from TMU. They say on thier site that they're Louisville KY's go to source for all things granite…. They're not cheap though.  Here's a link to his website if you want to get an estimate. http://www.trademarkuniversalstone.com/
Henry gave me the second to highest estimate I got out of 5 separate prices and originally I was going to go with another company but Henry invited me out to their showroom to look around and back in the back to actually see them cutting and prepping the granite for some of their upcoming projects, and yes I was wowed by the detail. So I hired them.
They had to do some additional work (reinforcements) to my existing cabinets before they would bear the weight but other than that once they arrived onsite with my counter tops it was over fairly quickly. And I love how they look! Check out the photo of what the island looked like with no counter top!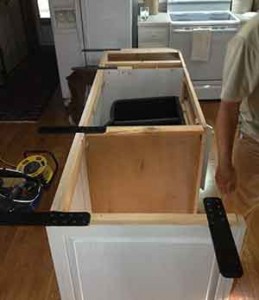 So I absolutely love the way the kitchen looks now and the truth is that I'm thinking about repainting the entire interior of my house now.
I recently inherited a lot of money and think that investing it here into my home is the best thing I can do with it. I've been reading a lot about remodeling and the average return on investments associated with each different project you can do. Kitchens is one of the highest returns and I spend the most of my time in my kitchen so naturally that's where I started the ball rolling!
It's crazy how one remodeling project leads to another, then another, and another..
My cats totally go hide when I get on one of these kicks and don't come out for days. Anybody know a good flooring company I can call?